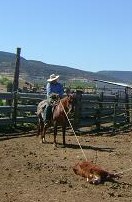 In agriculture we always talk about adding value to our product. One way that cow-calf producers can add value is by producing, growing, and marketing their product under the certification of Beef Quality Assurance. Cattle buyers recognize that calves produced under the umbrella of BQA will be free of bruising and injection site lesions. They will know that the cattle have been handled and transported properly, and are worth a premium at the time of sale.
BQA certification is not only for cow-calf producers, but for anyone who works in the beef cattle industry. This includes veterinareans, truckers, feedlot personnel, beef consultants, and even dairy workers.
Certification can be accomplished by going to the Animal Care Training website and completing the modules that are appropriate for your involvement in the beef industry.